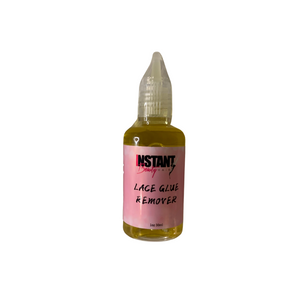 IBH Lace Glue Remover
Let's face it! Most of us love to wear lace closures, frontals, wigs, etc. 

It's all good until its time to take it off! So many people have asked for the best removal method with the least amount of possible damage to the hairline.
Now we've got an official answer! This lace glue remover will get the job done. Great results when paired with our lace glue adhesive.
It's fast acting, wont dry out your skin or turn you red and inflamed (like rubbing alcohol will do), plus a little goes a long way.
The applicator nozzle allows for less mess and on the spot treatment. Now you can just point, squeeze, set and remove.
Works best with our lace glue system.
Fast acting on most tapes and softs bonds. Great cleanser for scalp and hair systems. Just rinse off with soap and water.
Gentle on skin.
Ingredients 
Organic wetting agents
Petrolatum
Hydrocarbons
Citrus Oils 
Lanolin Limonenes
Solvents
Eth-yl-acetate 
No refunds or exchanges. All sales are final. 
Please allow up to 1-5 business days to receive your unit.
Processing Time: 1-3 business days
Shipping Time: 1-5 business days depending on US domestic location. Tracking will be sent in a separate email after purchase.
Please Note: Business days Do NOT include holidays and/or weekends.
Processing Time is the number of days required to not only process your payment but prepare your wig to be sent out.
Shipping Time is the number of days you can expect to receive your unit once the processing time is completed.
---
We Also Recommend
---