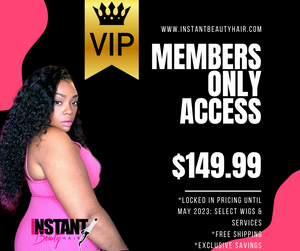 Members ONLY Access: Exclusive Pricing
We are upgrading the quality of our inventory. If you already love what we provide get ready to be amazed with what's to come. 
With upgrading comes price increases, but we're providing a way to lock you in from now until 2023. This NEW MEMBERS ONLY ACCESS subscription gives you EXCLUSIVE access to benefits other customers won't have access to. This includes:

* Free Shipping (All across the U.S)
*No price increase on custom made wigs. (You get locked in at CURRENT PRICING of our BUILD-A-WIG packages.)
*1st Wig install is FREE with the purchase of a custom wig (BUILD-A-WIG)
*NO SERVICE INCREASES (Sew-in/Wig Install Clients are LOCKED in at CURRENT PRICES)
*NO upfront DEPOSIT required when online booking for services.
*EARLY ACCESS to booking schedule. (You get to see the calendar 4 days prior to the general public)
*Exclusive savings offers 
So don't wait to lock in now! This chance to do so won't last for long! LIMITED TIME ONLY.
---